What's news for… "la boulangerie" ?
France's daily bread consumption has continued to decline this year, dropping to 120g per person per day. This fall is due to our constantly changing approach to meals (eating more often, but often only a single dish, etc) and eating habits (in-store, to go, click & collect, etc).
Today, our bakeries have reached a turning point: they have to stay open late! They have also had to change both the products they make and their production methods. The size of bread displays is shrinking, giving way to 'associated' products. These snacks can account for 40% of some bakeries' turnover. It's common practice to find packaged products on sale on a shelf beside freshly baked ones.
And to top it all, bakeries are facing fresh competition from supermarkets and fast food or casual food outlets. These competitors are eroding their market share as the former also sells bread and the latter lunchtime snacks. So where do people go for their snacks today? Or lunch? The truth is, to a wide variety of places. Just look at how bakeries are creating terraces (it's often difficult to tell the difference between a café and a bakery) and mini markets are also getting in on the act (in addition to the microwaves they provide).
So, what's happening in China? Are bakeries adopting this mixed product concept or are they remaining mono-product?
It's important to note that bread in China is considered more of a cake than a basic accompaniment to a meal as in Europe. In China, bakeries tend to be more of a coffee shop where you go to buy a hot or cold drink, sandwich, salad, soup, bread or pastry! It's also interesting to observe that all bakery products are paid for using the mobile phone, which greatly speeds up transactions and customer flows. When we tell the Chinese that in Europe, we cannot pay for our goods in our bakeries with our mobile phones, they simply stare at us wide-eyed and ask: "why not?". We may produce tens of different breads but we still cannot offer payment by phone! We are waiting for this 'movement' to gain ground to reduce our lunch-time queues.
In China, just like in France, bakeries do not simply sell bread. Their business models also include the sale of associated products. There are many similarities between the two bread and sweet bread markets. Increasingly both use 'pre-prepared' professional products to save time at every stage of the production process (cooking, filling, applying spreads, unmoulding, etc). Staff is less qualified, salaries are higher and staff turnover is greater… be aware it's difficult to recruit millennials the world over.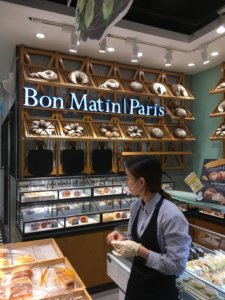 So are brand images viewed in the same way on the other side of the world? Social networks are also very active in China. Plus, there are clear signs that people eat out (tables & chairs, people eating standing up, presence of bins, menu boards, advertisements for meal deals, etc). Branding can be found on throw-away or re-usable items (cups, napkins, fidelity cards, signage, etc), there are also signature photographic styles and appropriate associated copy. Branding is gaining ground internationally.
But, what about retail design? Here again, patterns are very similar. Each brand must convey a consistent image and DNA inside its stores in terms of colour schemes, choice of materials, lighting, decoration… and customer experience. It's a good idea to ensure that the customer experience reflects your brand DNA to maximize customer loyalty. Today we no longer talk of adapting interior designs, but of a way of life that can be adapted to different places and sites depending on the store location. The keywords in bakery today are diversity, harmony and lifestyle. What I'm trying to say is that this new style of restaurant is fast-changing at the moment.