A year on … how are Kopo and Slowfruits doing?
We created two healthy fruit-based snack product ranges– Kopo and Slowfruits – for the startup Vegesens. In 2017, their CEO, François Boussaroque commissioned us to produce a full package for them including a range of products, branding, brand identity, and packaging.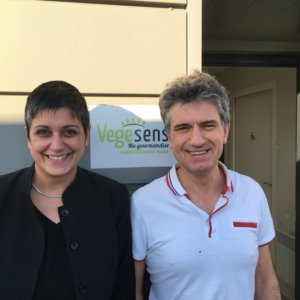 So how is Kopo with its range of 5 products and Slowfruits with its range of 4 products doing?
So far, both product ranges are in line with their target objectives and audiences in supermarkets and specialist stores. They are located just where we hoped they would be, by the checkout, where most impulse buys occur. In September 2018, Kopo was reviewed in detail by the specialist packaging designer, Mr Fabrice Peltier in his monthly magazine "Emballage Magazine". A full copy of his article is available here.
At the All4Pack trade fair in Paris this week, Schur Flexibles Uni Packaging won the HP Award of Excellence for its packaging for Vegesens' Kopo range. When we developed this pack, our objective was to reach out to people who cared about their bodies and for whom food packaging ethics were important. In terms of identity, our vision was to develop a Nordic spirit through illustrations (as opposed to the more customary photography). The Kika spirit (Swedish coffee break) and talents of illustrator Géraldine Cornière provided a simple yet effective result.
Today, Vegesens products have been referenced and approved for sale by Franprix, Carrefour bio, Carrefour bon app, Bio c bon, Province bio, Houra, La Vie Claire, Frais d'ici and early 2019 they will also be by Carrefour City, Auchan and Greenweez. So, look out for them when shopping! But be aware that when a product is referenced and approved by a distributor, this means that individual stores can buy this product from their central warehouse. It doesn't necessarily mean that they will stock the product in their stores so you may have to ask the store manager to order them in for you. You have the power to convince your local shops and supermarkets to expand their offer and stock the products you want.
Discover Kopo and Slowfruits products on www.vegesens.com